Jason Bond was a former public school teacher in New York City for the past ten years. Five years ago he quit his miserable, low-paying job to set up his newsletter and become a full-time penny stock trader. He specializes in swing trading small caps, holding them for days or a few weeks at a time. Jason looks for gains of 5-20% for each trade with an average position size of $40,000-$70,000. He allegedly has made nearly a million dollars without even setting foot on Wall Street and has an estimated net worth of $5 million as of 2017. It's clear Jason makes the vast bulk of his fortune from teaching people how to trade, exactly like Timothy Sykes. If you have the experience and knowledge, owning a newsletter can be hugely profitable. The problem is too many young, inexperienced traders are setting up their own educational businesses despite having no track record.
Jason's website is very promotional, if you can avoid the pop-ups there is some useful content in his blog posts. On the sidebar of his homepage, he reveals his most recent big winners, under the heading "Recent Results", $6,100 on China Gerui (CHOP), $7,510 on PlasmaTech Bio (PTBI), $7,770 on Novogen (NVGN), $5,850 on Gevo (GEVO). Jason mainly only shows winning trades and should show more losing trades, so future subscribers have realistic expectations when joining. Nowadays, beginners are super lazy, they don't want to learn to trade for themselves because it takes too much effort. They would rather just copy trading alerts and bank easy money. This is what current subscribers do, anytime Jason sends out a stock pick that stock moves five to twenty percent in less than an hour. If you're quick enough, you can make money buying or short selling his alerts due to the number of newbies copying his trades.
On Investimonials.com the reviews on his page are overly positive with users giving 5 stars overall for accuracy, frequency and value. These are more than likely biased reviews from members who were given a free trial to leave a positive review. This is a common tactic utilized by newsletter owners because managing their online reputation is key to selling more subscriptions. It's difficult to find an honest review of his service as affiliates promoting him receive hefty commissions for referring new members. On a YouTube video a guy claims to have made "$15,090 in 22 days" from following his alerts, it seems like bullshit to me and then tells users to click the link below in the description.
Complaints
Negative reviews are mainly from members who signed up with unrealistic expectations, expecting to make $1,000's every week trading penny stocks with very little effort. Jason would receive fewer complaints if he changed his advertising. Tradingschools.org gave him a bad review (like they do with every chat-room unless they pay) rating him 1 out of 5 overall even though the guy never been a member. That website is owned by ex-convict Emmett Moore who has an extremely shady past.
Chat room
The chat room is run by head moderators Matt Galpin and Luke Murray who focus on day/swing trading penny stocks. The primary purpose of the chat room to communicate hot stocks in play, their charts, catalysts & the best entries and exits. The alerts move fast so it's advised not to scalp them unless you can get in and out quickly. The chatroom offers ten to twenty intraday alerts throughout the day on small caps with a profit goal of $200. The chat is well moderated but beware of pumpers.
Millionaire Roadmap
Millionaire Roadmap is Jason Bond Picks premium mentorship program for students willing to spend a staggering $8,000. Jason currently has two millionaire students, Kyle Dennis and Petra Hess who host webinars for mastermind members. Both have gone on to create their own services – Biotech Breakouts and Petra Picks respectively. Kyle Dennis was the first huge success story as he turned $15,000 into 1,000,000 by applying Jason's swing trading strategy to biotech's. Also, MMA fighter Frank Mir is a Millionaire Roadmap student. Hopefully, penny stock investing goes better for him than his stint in the UFC.
Millionaire Roadmap Benefits:
Direct access to his team of mentors with different strategies these include; Petra Hass (blue chips), Bart Van (day trading), Jeff Bishop (options) and Alan Marshall (small caps). Apparently, these are all self-made millionaire traders. Jeff Bishop was actually Jason's first mentor.
Jason live streams from his Etrade and TD Ameritrade brokerage accounts.
Daily watch lists and video recaps.
Video lesson library is great for beginners.
Access to all of Jason's DVD's.
Question and answer sessions for private members.
Free mastermind meetups at locations such as Las Vegas, Miami and Boston.
Swing and day alerts right to your email or smartphone.
Despite all the benefits I don't recommend splashing eight grand on education and customers would be better off sticking to the lower priced courses. As well, each mentor teaches a different strategy so its better to pick one trading style and stick with that.
Ties to Stock Promotion
In the past, he had a business relationship with BlueWave Advisors Group, a well-known penny stock promoter. His newsletter picks are unbiased but does send out free emails for which Jason is sometimes compensated. Promoting stocks might be unethical but it is still legal as long as the disclaimers reveal everything. If you're stupid enough to buy a pump and dump then it's your fault.
Jason runs a blog which contains details of all of his trading activity and which penny stocks are on his watch list. Sometimes he will provide visitors with trading ideas to give them a sample of what it would be like to join his service. If you subscribe to his list he emails out offers free coupons/trials.
E.g. of an email sent out to free subscribers
"Good morning.
Made +$13,000 Friday on SFXE, GEVO and VLTC.
Video lesson coming today on how I made +13% +$5,000 on VLTC Friday in 1 hour.
Here's the swing scan.
DSKX – Using trendline support at the pivot for entry and stop loss, range to $3.50 looks good with the MACD making a bullish move toward the signal line suggesting continuation is gaining momentum.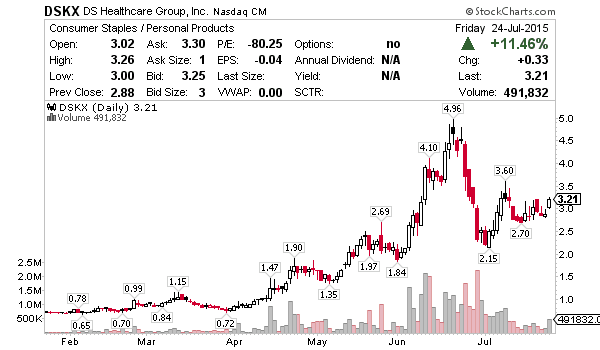 USAT – The uptrend on USA has been consistent in 2015 and there's nothing to suggest this $3.50 breakout won't work. Upside range is to $4 with $3.26 acting as the stop loss here.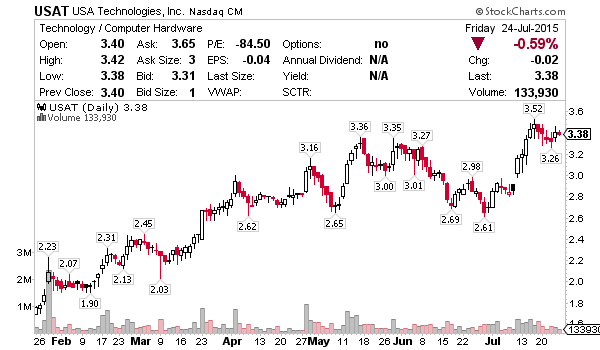 SGNL – Strong news at the end of June hasn't amounted to much since. Now that shares have retraced to the $1.50′s I think it's time to give this a shot for continuation to $2. Might be a boring trade but risk/reward is good.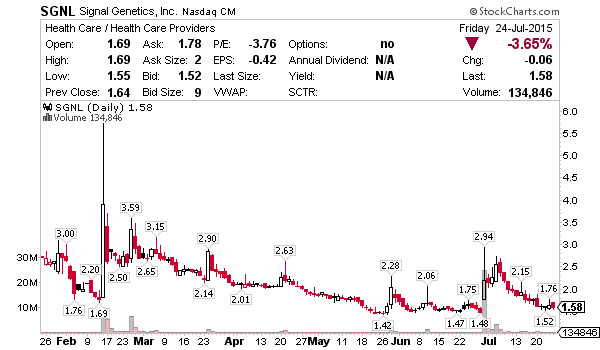 Remember, the market is off over 100 points Monday morning, sniper swing trading is in effect right now meaning no more than 1 – 3 open swings in the portfolio at any time and mostly cash waiting for the right time to load the pullback".
Profitly 
Apparently, Jason was kicked off Profit.ly by Timothy Sykes because he was deleting trades and lost substantial amounts on two trades which he attempted to hide. This is just a rumour; Tim Sykes has never 100% confirmed what really happened. More than likely he fell out with Tim Sykes because Profitly wanted a 30% cut from his subscription sales. Jason probably moved back to his own website because he has the potential to keep more the money he makes. 
Is he a scam? No, just because he monetizes his knowledge of day trading it doesn't make him a fraud although he should lower his prices. All the top stock newsletters charge premium prices such as Warrior Trading, Investors Underground, Top Stock Tips and Penny Pro.
If you join his service, I advise you to watch the training videos and attend weekly webinars, then paper trade for two months. This will show you if swing trading is a suitable trading strategy for you. Jason Bond is a solid mentor, but his trading service is overpriced so search for free trials and coupons to receive a discount. Join his membership site for the education not just to copy alerts. When he alerts his stock picks, they move fast, which means your entry price will be higher causing you to potentially lose money. Subscribers should start with at least of least $5,000 because broker fees do add up over time. I have noticed that his newsletters have a high retention rate, which underlines the value others find in his service.